Welcome to the CoME EASY Newsletter!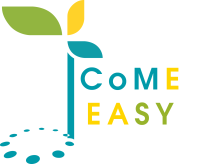 The project CoME EASY offers an all-inclusive, effective and easy-to-apply package of supportive tools that pave the way for local authorities to unite and synthesize the benefits, strengths and unique features of internationally and nationally recognized energy efficiency and climate policy management approaches. Requirements from initiatives such as Covenant of Mayors, European Energy Awards, ISO, Smart City will be tuned up and harmonised in order to strengthen the municipal commitment to EU targets and to enhance synergies. Through the project's supportive tools municipalities can achieve better results with less effort and improve their local energy efficiency and climate policy.
The project is funded from the European Union's Horizon 2020 research and innovation programme and carried out by an international consortium involving all national managing structures of the EEA, expert teams and 18 Ambassador Municipalities. The Ambassadors will apply, test and evaluate the project's outputs in order to build the ground for other European municipalities to join CoME EASY in the roll-out phase.
The CoME EASY Newsletter will be a biannual communication with information about the project development, the municipalities involved and relevant energy and climate issues.
This year's UN Climate Change Conference COP24 was organized in Katowice, Poland, between December 2nd-15th.
Aiming at adopting a Paris "work programme", a detailed set of rules and guidelines on how nations must monitor and report the implementation of the 2015 Paris Agreement, representatives of nearly 200 nations tenaciously struggled for two weeks to find a common solution. In the end, they have agreed on a set of resolutions and provided a foundation that will bring forward and reinforce the implementation of climate action worldwide. Acknowledging IPCC's recent special report – which outlines the urgency and calls for increased efforts to prevent surpassing the 1.5°C warming threshold (compared to pre-industrial levels) to avoid catastrophic effects on the environment – the climate conference demands action to mitigate climate change as well as to strengthen resilience and adapt to the manifold effects of global warming.
The EU climate policy, based on the EU Adaptation Strategy, adopted in 2013, highlights the importance of adaptability. Ahead of COP24, the European Commission published an evaluation of the Adaptation Strategy that provides insightful information on the progress recorded. The analysis highlights achieved successes, but also shows how Europe is still vulnerable to effects of global warming. It concludes that adapting to climate change effects is more urgent than anticipated in the EU Strategy and proposes areas where more effort has to be invested. More information at: https://ec.europa.eu/clima/policies/adaptation/what_en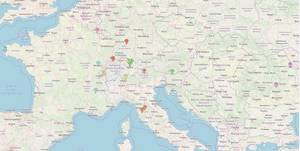 Municipalities are the main target of the CoME EASY project, with the ultimate objective to facilitate their commitment to an increasingly sustainable energy and climate policy according to EU objectives. Within the project, 18 selected Ambassador Municipalities that are already involved in the EEA program are taking a key role: they are asked to implement and test the new CoME EASY tools that bring together different requirements and strengths for a set of initiatives that will facilitate the multi-application of these initiatives by municipalities, with the goal of improving local energy and climate policies. They have been selected for being frontrunners in their regions and, as role models, sharing their experiences in using the CoME EASY tools with peer municipalities. The Ambassadors are of different sizes, have different characteristics and are spread across seven European countries:
Austria: Dornbirn, Feldkirch, Klagenfurt
France: Ville de Besançon, Grand Besançon, Brest Métropole, Vienne Condrieu Agglomération
Germany: Lörrach, Ludwigsburg
Italy: Firenze, Merano, Montaione
Luxemburg: Beckerich
Romania: Iași, Vama Buzăului
Switzerland: Lausanne, Lumino, St. Gallen
The final CoME EASY tools and the Ambassadors' experiences will be transferred to other municipalities during the project roll-out phase and made available to contribute to more efficient and successful implementations of energy and climate policies on local level, according to the EU 2030 targets.
On November 5th, 2018, EEA municipalities from all over Europe have been (re)awarded the European Energy Award Gold during this year's Annual EEA Event in the Austrian City of Baden. The European Energy Award Gold is the highest award given to cities and municipalities that are continuously committed to the efficient use of energy, renewable energies and climate protection at European level and has to be confirmed every four years. It is awarded to municipalities that meet particularly high standards with regard to sustainable energy and climate policy and succeeded in implementing at least 75% of measures within their respective scope of action.
A high percentage of the CoME EASY Ambassador Municipalities at the same time are EEA Gold municipalities, having shown their long-term commitment to sustainable and responsible energy and climate policies and thus being certified role models for other dedicated cities. Among this year's (re)awarded cities were Dornbirn (AT), Ludwigsburg (DE), Lausanne and Lumino (both CH). Other Gold-labelled Ambassadors, having been (re)awarded in the previous years, are Feldkirch (AT), St. Gallen (CH), Lörrach (DE), Besançon (FR), Montaione (IT) and Beckerich (LU) . More information at: www.european-energy-award.org/eea-gold-municipalities/
Save the date for the 2019 Covenant of Mayors Investment Forum
The 2019 Covenant of Mayors Investment Forum: Energy Efficiency Finance Market Place will take place in Brussels on February 19th-20th, 2019. The conference, organized by the European Commission, will include plenary sessions with high-level representatives from the Covenant of Mayors initiative, the investment community, and the European Commission. The event will be an opportunity to discuss innovative financing solutions and key success factors for financing sustainable energy and climate measures such as climate adaptation, clean urban transport, energy efficiency in the public sector and home renovation.
The conference will bring together cities, industry and financial institutions to exchange on good practices and successful solutions to common challenges and will be a good opportunity for engaged cities to expand their knowledge of financing models. More information at:
https://www.eumayors.eu/news-and-events/events/upcoming-events/2077-covenant-of-mayors-investment-forum-energy-efficiency-finance-market-place.html